Your have to move a little worm through levels, eating all apples apearing and trying to avoid the bad monsters running around, trying to catch you.
The game has 99 levels with three different scenarios and MIDI-musics.
With the level-editor you can build your own levels and include selfmade backgrounds.
You may play the game alone through all 99 levels or in a multiplayer-battle with up to four players (if two joysticks are connected).
Network-gaming is supported in the full-version.
Single-Player-Game has three different difficulties for all of you out there who can't control your fingers fast enough.
English and german language is supported and detected automatically.
The game is running only with Win95/98 or NT and Direct X 3.0 (or better).
SharePlay 4/97 - "Spass im Büro"


Download the Shareware demoversion (578 KB)
| | |
| --- | --- |
| Enemy action - standard worms | Space worms |
| Crash worms | Multiplayer worms |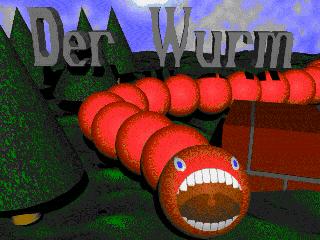 Title Screen